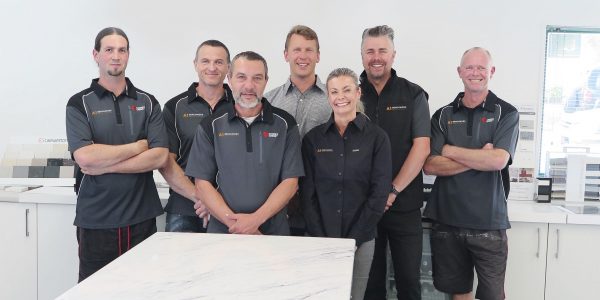 Who We Are
LOCALLY OWNED AND 80+ YEARS OF COMBINED EXPERIENCE BRINGING YOU QUALITY WORKMANSHIP WITH A CREATIVE EDGE.
L-R: Liam, Adrian, Dale, Brendan, Linda, Tony, Dave.
We are a locally owned and operated company that has been manufacturing quality benchtops for kitchens, bathrooms and laundries since 2009. Our talented staff and management have 80+ years of combined experience in the industry, which is reflected in our quality workmanship and creative edge.
Committed to excellence in quality, timeliness and a great customer experience, A1 Benchworx takes pride in every fabricated piece.
Based in Greerton, Tauranga, we service the wider Bay of Plenty area as well as Auckland and Hamilton. All our products and a selection of options are available to view in our showroom, which is situated right next to our warehouse where all our benchtops are manufactured.